ABOUT CDR REPORT WRITING
CDR stands for Competency Demonstration Reports, which are technical reports required to appraise the education and competency level of engineers who want to work and live in Australia. In other words, if you are an engineer and you want to go to Australia to work or settle there, then you have to apply for EA with CDR. Then, EA decides whether or not you are suitable to achieve your dream. More than 4,50,000 international students take admission in Australian universities. We follow CDR writing guidelines and instructions as per EA. Our expert CDR writers provide you with assistance in various streams of engineering.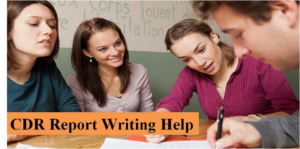 Our team of civil engineers focus solely on projects such as water supply in aerodromes, hydraulic systems, building and construction, roads, bridges and much more. Our expert writers help engineers to interpret specifications such as methods of construction, quality standards, materials, plans, drawings, construction procedures, contracts and much more. Our electrical engineering CDR experts have high expertise in the areas of automatic production, industrial electronics, electronic circuits, television and cable systems, satellites, digital controlled systems and much more.
The main purpose of CDR Report Writing is give an opportunity to aspirants across the globe to depict their engineering know-how. In other words, the aspirants are given a chance to demonstrate their qualifications and skills via CDR Report Writing, which is then assessed by the EA as per the guidelines in their handbook. With the help of a CDR report, the aspirant from any part of the world gets the opportunity to work in Australia. Thus, CDR Report Writing is a great way to help engineers work in their dream company in Australia by proving to the authorities that they have the skills that match with Australian standards.
The CDR report has a chronology of all your employment details and the projects that you have an experience in. It is important to know about how a CDR report is structured. The CDR report also includes Career Episode writing and Summary Statement writing.
WHY AWESOME CREATORS FOR CDR REPORT WRITING HELP?
Awesome Creators provides the most reliable and highly acclaimed CDR writing services in the business arena. Many times, you might face issues in preparing CDR reports as per the guidelines set by authorities of EA. Our experts of CDR report writing are highly proficient in providing you with excellent CDR reports which are plagiarism free and guarantees you complete satisfaction. Our expert professionals of CDR report writing are well trained to write Continuous Professional Development (CPD) list, Career Episodes as well as CDR Summary Statements. We make sure to choose the correct words, spellings and writing styles. Our writers need to know about your academic background and projects executed by you. Also, our writers make sure that the application meets the competency standards of the relevant occupational category. We make sure to provide you with premium quality content that is authentic and backed up by sufficient proof.
Our prices are highly affordable and we deliver services on time. Our customer support team is available 24X7 to resolve all your queries related to CDR report writing. Our experts have in-depth knowledge in various engineering fields such as civil engineering, electrical engineering, mechanical engineering, IT engineering, chemical engineering, software engineering and many more. Our experts of CDR report writing are familiar with the guidelines laid down by Engineers Australia. Our team of editors and proofreaders make sure that the CDR report writing solution is absolutely flawless.
Career Episodes constitute the most important segment of CDR report writing. Ideally, there are three career episodes for every CDR which explain candidate's experience and contribution to the field of engineering. These career episodes need to be different from one another. Our team of CDR report writing experts help you in drafting flawless career episodes based on your professional experience. Our writers father information about your past experiences, create an outline, write effective career episodes, proofread and edit. While creating the summary of your abilities and competencies, our writers make sure to highlight most impressive facts about your experiences.
Our USPs include the following:
Domain specific writers (with expertise in all engineering domains)
Plagiarism free work
Timely delivery
Affordable prices
100% confidentiality
24X7 customer support
So, are you stuck with your CDR report writing? Contact us now to place your order. We make sure to deliver the best CDR writing solution at a very reasonable price.