ABOUT CAREER EPISODE WRITING
A 'Career Episode' well demonstrates your engineering work and education. It highlights how you apply engineering skills to your occupation. Furthermore, your Career Episode report must demonstrate that you have all the competency elements required for occupation category for which you are applying. The Career Episode may be based on any engineering task which you may have undertaken as a part of education. It may also be based on any engineering project on which you might have worked hard on. It could be based on any particular engineering problem that you were required to solve. The career episode report has to be written in an essay format rather than in tabular form. The three career episodes in CDR are written on three different projects that are done in final year engineering, internship program or work related projects.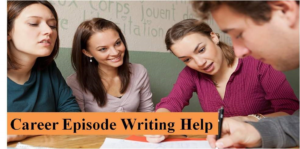 The format of a career episode report is given below:
INTRODUCTION: This section introduces the reader to career episode and should include basic information such as chronology, name of the organization, geography where the particular episode happened, title of the position held by you and much more.
BACKGROUND: After the introduction, many more details are given such as nature, objectives of project, organization chart, responsibilities highlighting your position and much more. This section has to be completed in 200-500 words.
PERSONAL ENGINEERING ACTIVITY: This is the core of the career episode where the engineering abilities are demonstrated well. This should include how the knowledge was applied, tasks given to you, how tasks were accomplished, difficulties encountered along the way, how difficulties were resolved, how you worked with other team members, and much more.
SUMMARY: This section of the report talks about whether the project achieved its objectives or not and your personal role in it. The word limit for this section is about 50-100 words.
WHY AWESOME CREATORS FOR CAREER EPISODE WRITING HELP?
Our experts of Career Episode writing well understand the requirements of writing a proficient report. Our team of writers have in-depth knowledge about the guidelines required in writing career episode reports. Our team is well trained to write various sections of Career Episodes such as Introduction, Background, Personal engineering and Summary. Our writers are highly qualified and well experienced from all engineering fields. Moreover, our writers are very much familiar with the requirements of EA  and are able to draft a report with authentic data that is easily verifiable. We lso make sure that the report is always unique.
Our experts understand precise requirements of Career episode writing and structure it as per the needful guidelines. We offer premium quality content that is authentic in nature. Also, our services are offered at a very reasonable price. Our USPs include the following:
Domain specific writers (with expertise in all engineering domains)
Plagiarism free work
Timely delivery
Affordable prices
100% confidentiality
24X7 customer support
So, are you stuck with your Career Episode writing? Contact us now to place your order. We make sure to deliver the best CDR writing solution at a very reasonable price.