ABOUT OPERATIONS MANAGEMENT
Operations Management refers to a niche of management focused on managing the procedures and developing of production. It also refers to revamping of service operations in production of products and services. It guarantees service operations in regards to utilization of resources. It refers to taking care of a whole production system that converts inputs into outputs. The inputs could be in the form of materials, labour and energy whereas the outputs could be in the form of goods and services.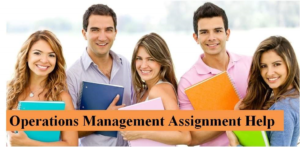 Operations Management can also be defined as the administration of business practices, so as to create the highest level of efficiency possible within an organization. It is related to conversion of materials and labor into goods and services, so as to maximize the profit of an organization. The operations management team make efforts to balance costs with revenue. This helps them achieve highest net operating profit. Operations management deals with appropriate utilization of resources such as staff, materials, equipment, technology and few more. The goods are delivered to clients as per their requirements.
Operations Management takes care of various strategic issues such as determining the size of manufacturing plants, project management methods and implementation of IT networks. Other issues could deal with management of inventory levels, raw material acquisition, quality control, maintenance policies, materials handling and others. Operations Management also makes sure that minimal waste occurs and that the raw materials are used effectively. A professional of operations management understands the global trends, availability of resources as well as customer demand. Operations management also makes sure to acquire materials and use labour in a cost-effective manner. Operations management also helps in ensuring that the products meet the necessary quality standards and functionality needs.
The operations manager co-ordinate and develop new processes, so as to evaluate current structures. Organization and productivity are key drivers of an operations manager. The work of an operations manager often requires innovation and versatility. The subject of operations management gives someone a global perspective on industry trends and political uncertainties that could affect the organization.
WHAT IS OPERATIONS MANAGEMENT ASSIGNMENT HELP?
The involved concepts and theories of Operations Management are diverse and complex in nature. This needs extensive research and analysis of undertaken projects. Therefore, students often face difficulties in attempting given assignment tasks. Students might not have appropriate writing skills and research skills which are required to attempt such assignments.
We, at Awesome Creators, help you with the most accurate solutions to your assignments. Our team of professional experts and writers of Operations Management are highly qualified so as to provide you with top-notch solutions to your assignments. Our experts have worked with most renowned universities and enterprises, and therefore, ensure quality assignment solutions at all times.
Over the years, our experts have undertaken Operations Management Assignments on various topics. Our expert writers have written assignments, project reports, articles, research papers, thesis as well as dissertations in Operations Management. We also have a panel of editors and proofreaders who make sure to present flawless assignment solutions to you. 
WHY AWESOME CREATORS FOR OPERATIONS MANAGEMENT ASSIGNMENT HELP?
Our team of writers, editors, proofreaders and quality analysts make sure to use the best of resources and provide you with updated Operations Management assignment solutions at all times. Our experts can help you with various kinds of assignments of Operations Management such as essays, term-papers, case-studies, coursework as well as dissertations. Our experts are also well-versed in conducting in-depth and extensive research on the subject so as to help you achieve academic excellence.
Our team also makes sure that the information is presented in a well-synchronized manner as per the guidelines given to you. The conclusions are presented and narrated well to showcase the derivation made by the researcher. It is also made sure that the content of the assignment is of premium quality and is backed up by evidence and facts. The unmatched quality of our Operations Management assignment help in the field of your specialization will further help you conduct detailed research.
We make sure to resolve all your queries and doubts and make you much more confident in managing complexities in the subject of Operations Management. Our experts help you step by step in climbing the ladder of success in your educational as well as professional endeavours. Our experts also make sure to complete all the assignment tasks as per the guidelines given to you.
So, are you stuck with your Operations Management assignment? Contact us now to place your order. We make sure to deliver the best assignment solution at a very reasonable price.