WHAT IS PROOFREADING SERVICE HELP?
Proofreading involves appropriate examination of written text to find the errors and mistakes in grammar, style, and spelling. In other words, it is the process of reviewing the final draft of a piece of work to ensure consistency and accuracy in grammar, spelling, punctuation, and formatting. Before proofreading, the document should be well written and organized and should be easy to understand. Proofreading then involves finding small or large errors that were either missed or introducing while editing. Our team of proofreaders makes sure that the final draft is completely free of grammatical errors, incorrect word choices, improper punctuation's, and incorrect spellings. They also make sure that the document follows the right writing style.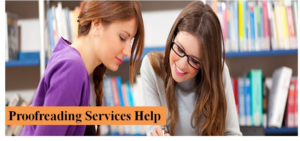 WHY AVAIL PROOFREADING HELP AT AWESOME CREATORS?
Our team of proofreaders have a good knowledge of punctuations and grammar. Moreover, they are given a quiet environment with no disturbances such as phone, music and so on. They are experienced enough to spot inconsistencies in writing style and formatting of headings and sub-headings. Are you stuck with the final step of proofreading before submitting a paper? Do not worry anymore. Our team of professional proofreaders is available round the clock 24X7 to assist you. Submit your requirement NOW. We assure the best accurate solution and timely delivery.