ABOUT SOLIDWORKS
Solidworks refers to a computer software that allows engineers (chiefly mechanical engineers) to design engineering products. It is a type of 3D CAD Design Software (Three Dimensional Computer Aided Design Software). Solidworks is currently owned by Dassualt Systems. Engineers today use Solidworks software to design, build and improvise innovative engineering products, inventions as well as gadgets. A 3D virtual environment is provided through this software so that mechanical engineers could use relevant tools and techniques to explore various applications. It is now possible for engineers to visualize their product designs, modify and change it as per their requirements. The outputs are visualized and analyzed via artificial intelligence.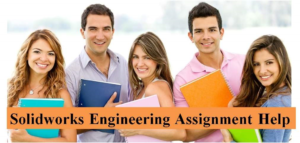 Solidworks software helps is different areas such s structuring, automobiles and computer aided engineering. Using solidworks, the designs can be created as different parts or different assemblies. Solidworks is a solid modeling CAD and CAE computer program that is executed on windows and used for making different 3D designs. Solidworks uses parametric features based approach used to create models and assemblies. The different parts of Solidworks include parameters, design intents, features and assembly mates, which are explained below:
PARAMETERS: The constraint whose value is used to determine the shape of the model is termed as Parameter. It can be in the form of length of a line, diameter of a circle (numeric values), tangent, parallel, vertical, concentric or horizontal (geometric values)
DESIGN INTENTS: This refers to the measure that will let you know how the creator will respond to inevitable changes in the model. For example: a hole on the top regardless of the size or height of the model.
FEATURES: These refer to the building blocks that form the shape and the operations that construct new parts. Shape based features use 2D and 3D concepts whereas the operations based features use bone, shells, chamfers and so on.
ASSEMBLY MATES: These define the relations of different parts with each other that help in constituting the assembly.
The advancements in Solidworks have helped in development and design of technologies for betterment of mankind. Engineers all across the world have accepted the concepts of Solidworks to plan and implement their projects.
BENEFITS OF SOLIDWORKS
Since a decade now, Solidworks has been the most widely used software for 3D designing, as it encompasses the following benefits:
Solidworks helps in building innovative 3D designs and depicts incredible productivity and built-in intelligence.
Solidworks has a low cost of ownership with high efficiency.
Solidworks helps in fast creation of 2D designs with automation and accuracy. It helps in creation of designs as per the environment in mind.
Solidworks also has the feature of community help, wherein you may share the innovation with different users , grow ideas, attract new talents and expand 3D capabilities.
Solidworks comes with different set of products with wide number of applications. These include 3D design, simulation, electrical drawings, technical communication, product data management and much more.
WHAT IS SOLIDWORKS ENGINEERING ASSIGNMENT HELP?
You might face difficulties in attempting Solidworks Engineering assignments due to various reasons. This could be lack of expertise and knowledge, lack of research and analical skills or even lack of sufficient time. Our Solidworks Engineering experts at Awesome Creators help you compose and structure the best solutions for your Solidworks Engineering Assignment tasks. Thus, we help you step-by-step to climb up the ladder of academic excellence. Our experts conduct extensive research required to attempt the assignment tasks. Our experts are well versed with practical understanding of the concepts related to the practical implementation of the software. Moreover, our writers make sure to present the assignment as per the guidelines given by the University.
Our experts make sure to consider the best of resources to deliver most updated information. The content of our assignment solutions is always authentic and backed up by evidence / facts.
TOPICS COVERED UNDER SOLIDWORKS ENGINEERING ASSIGNMENT HELP
Various topics have been covered by our experts under Solidworks Engineering Assignment Help. Few of the topics are given below:
Race car design project
Mountain board design project
Bridge design project
SAE design project
Trebuchet design project
CAREER PROSPECTS OF SOLIDWORKS ENGINEERING EXPERTS
If you excel in Solidworks Engineering, you may avail many job opportunities such as that of an AutoCAD Trainer, Design Engineer, Design Head, Specialist Designer, Mechanical Design Engineer and few more.
WHY AWESOME CREATORS FOR SOLIDWORKS ENGINEERING ASSIGNMENT HELP?
Our experts of Solidworks Engineering are highly qualified and well trained to provide you with the best assignment solutions. Our content is authentic, backed up by evidence and plagiarism-free. We make sure to deliver the assignment within your timeline. Also, our writers make sure to follow the stringent guidelines given by the University to complete the assignment.
Our team is available 24X7 for your support, so as to resolve all your queries and doubts pertaining to the assignment. Customer satisfaction is our priority at all times and therefore, we give you the service of unlimited revisions. It is seldom that we receive revisions as our experts precisely know how to attempt the assignments.
So, are you stuck with any Solidworks Engineering Assignment? Do not worry anymore. Contact us to place an order and avail the best of our services at reasonable prices.