ABOUT INTERPRETATION SERVICE
Interpretation services are extremely essential for many businesses. There exist many types of interpretation services such as escort interpretation service, consecutive interpretation service, simultaneous interpretation service, video interpretation service and others.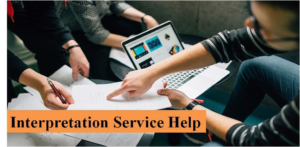 These different types of interpretation services are well explained below:
Simultaneous Interpretation: This is one of the most difficult type of interpretation service/ Herewith, the interpreter is at the side and interpreting what the speaker says in real time. This type of interpretation is used in international conferences, press conference and high-end summit.
Consecutive Interpretation: This type of service is very different from other interpretation types. Herewith, the speaker speaks for a long time and the interpreter take notes.
Remote Phone / Video Interpretation: This is one of the most famous and used interpretation services. This type of interpretation service allows to communicate with clients via a telephone or a video call. The interpreter translates the conversation for both parties via a chosen channel and makes sure that both parties understand each other properly and clearly. This type of interpretation service is used in various occasions such as technical visits, technical training, exhibitions, and much more.
Escort Interpretation: This type of interpretation ia very straightforward, wherein, the interpreter handles all conversations. It is used in various occasions such as travelling and visiting, general tour guide, business trip encourage, exhibition escort and others.
WHAT IS INTERPRETATION SERVICE HELP?
We, at Awesome Creators, provide high level interpretation services for legal, corporate, medical business negotiations, delegations, business conferences and much more. We have a team of experienced interpreters who are associated with us across the globe and are successfully supporting clients in their interpretation projects. All our interpreters are expert professionals in their industry domains. We provide Interpretation Service Help in the following areas:
Simultaneous Interpretation: This requires the interpreter to listen to the speaker in source language and render the message to another speaker of target language. This requires close proximity between the speaker and interpreter and is widely used in conferences.
Consecutive Interpretation: The interpreter allows completion of his sentence, message or entire speech post which he renders the message in target language. This type of interpretation is most useful in court, job-interviews, business presentations and many group meetings.
Relay Interpretation: This is used when the message has to be interpreted and rendered in more than one target language.
Sight / Visual Interpretation: This refers to spoken interpretation of written documents, visual presentation, etc by a certified interpreter.
Phone Interpretation: This service connects human interpreters via telephone to individuals who wish to speak to each other but do not share a common language. This type of interpretation mostly takes over in consecutive mode which means that the interpreter waits until the speaker finishes an utterance before rendering the interpretation into other language.
WHY AWESOME CREATORS FOR INTERPRETATION SERVICE HELP?
Our highly qualified experts of Interpretation Services assist you to get the best solutions. We ensure premium quality content, authentic information backed up by evidence as well as plagiarism free work. We also ensure to submit book report writing solutions as per your submission timeline. We are available 24X7 to answer all your queries related to your assignment.
Our team of experts, editors, proofreaders, and quality analysts make sure to deliver a flawless interpretation solutions to you. We also provide unlimited free revisions so that the amendments could be made to satisfy you completely.
So, are you stuck with any interpretation service assignment? Contact us now to place your order. We make sure to deliver the best solutions at a very reasonable price.